ABOUT
Heyyy, I'm Cre! I have been a stylist in the beauty industry for over two decades and have seen so many women dealing with hair loss. Their desperation for answers was palpable, yet I had no way of knowing what type of hair loss or scalp condition they were going through. It wasn't until 2018 that my perspective changed and my career took a shift.
I was so passionate about helping people regain their hair confidence, that I wanted to create something special - something that would actually work for anyone struggling with hair loss. After extensive research into the field of Trichology, I developed Tri Cre My Happy Scalp. This two-tiered system combines Natural and Organic formulas to provide thehair and scalp with the nutrients it needs in order to grow a healthy head of hair.

It's time to embrace your hair growth journey! With my products, you can begin seeing results quickly with the Antifungal Bundle, and you'll also see consistent results with the Regrowth Bundle! So don't wait any longer - start experiencing the joys of having beautiful and voluminous locks today!
Cre - Founder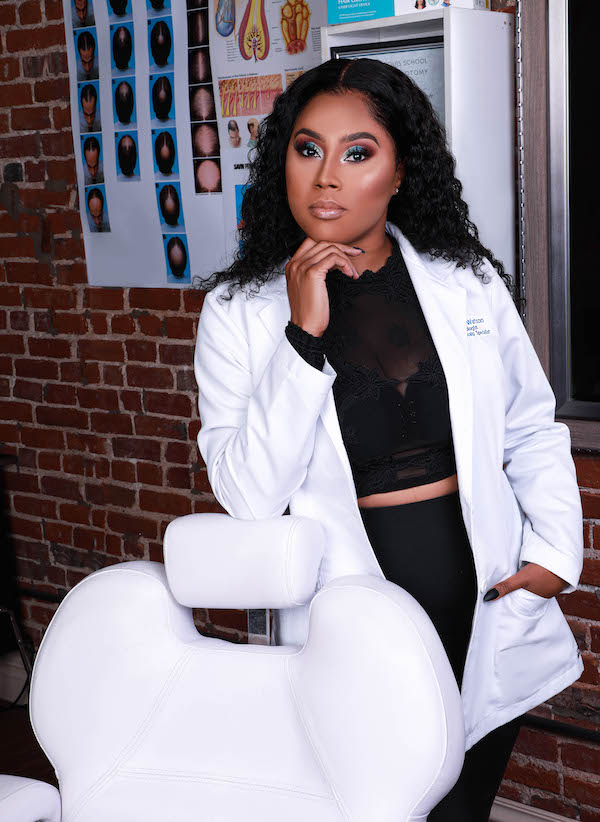 "What have I noticed with years of experience behind the chair?"
As a Holistic Trichologist with over 20 years of experience as a hairstylist, I noticed my clients preferred natural and healthy solutions to restore their hair and reduce scalp inflammation.
Many answers to hair loss and scalp inflammation were medicated treatments or painful injections that left my clients with side effects like extra hair growth, breakouts, more hair loss, and a disruption to their digestive system.
Like many medications, although it resolves the current condition, there are side effects, whether it's taken topically or internally.
That's when I decided that the only true way to treat these conditions effectively is a naturally using topical serums, vitamins, and lifestyle adjustments.
And you know what…
"I've found that an all-natural vegan solution was the best approach to eliminate any chance of side effects no matter how miniscule…"
The most marketed solutions for hair loss have been minoxidil, finasteride, Propecia, and steroid injections (that can be very painful with minimal results). 
But, did you know that there's a natural solution that has been proven to be more effective that minoxidil? The number one ingredient used in many hair loss topical serums? YES! I didn't realize that either until, I did a little research and found several natural vitamin compounds that are just as effective if not more, than minoxidil alone.
And…WITH OUT ANY SIDE EFFECTS! Many users of minoxidil will have more hair loss after discontinuing the use, increased facial hair, headaches, increased heart rate and a false high blood pressure reading were all side effects of this dermatologist recommended hair loss ingredient.
I had to find another solution and I did! I'm happy to provide you with an all-natural vegan line to help reverse your hair loss and eradicate fungus, bacteria and other signs of inflammation from the scalp.
Trichologist have been paving the way in research discovering treatments and solutions for hair loss.…
Trichology is a branch of dermatology that focuses on hair and scalp issues.
Since the 70's doctors of trichology have discovered many causes for hair loss along with effective protocols in reversing most types while focusing on the underlying cause.
Knowing this, I wanted to keep in mind that not everyone will benefit from topical serums and solutions, you'll also need to do your due diligence in maintaining a healthy and active lifestyle for a holistic approach to be effective.
The overall goal is to offer you products that will add to your already healthy way of living! Preventing adverse effects caused by medicated solutions.
The research landed me an incredible insight that a healthy head of hair doesn't just happen by what we put on our head, but also by what we put in our bodies.
This is why all of my products are based on this concept… And that is my customers have gotten amazing results!
Get our products to grow a healthy head of hair!